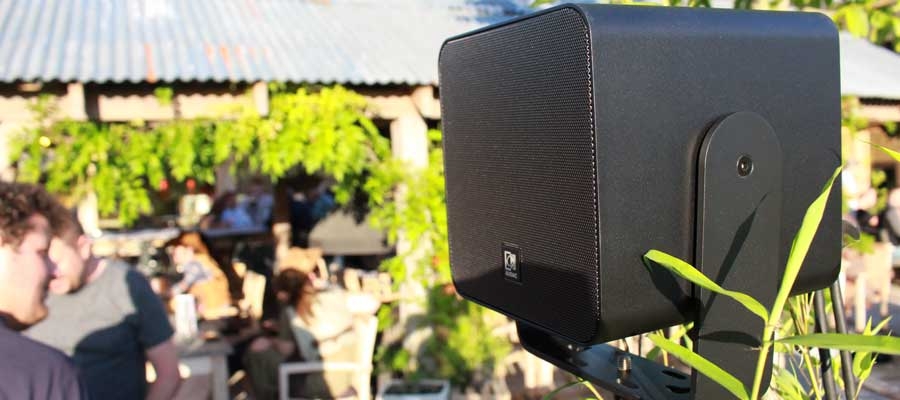 Elegance with a Punch
Belgian pro audio manufacturer AUDAC proudly announces the new VIRO5 series. The VIRO5 is a 2-way coaxial loudspeaker with 8 Ohm and 16 Ohm variants and optional toroidal transformer modules. Available in black & white, this loudspeaker will blow you away with its powerful punch delivered in a compact package.
The VIRO5 combines a soft, silk-domed tweeter for smooth tonality with a 5" 2-way coaxial speaker driver to achieve an impressive coverage range and high excursion. This unique acoustical composition delivers an uncompromised clarity and surprisingly low-frequency response. With the VIRO5, you have 120W program power in any application.
Using the optional 70V / 100V line transformer enables the VIRO series to be used in low-impedance installations and in 70V or 100V systems. The transformer can be easily inserted by simply removing the back plate, ensuring the coaxial loudspeaker is ready to rock.
Crafted in high-grade aluminum with incredible attention to detail, the VIRO5 goes beyond aesthetics. It also provides superior acoustic properties thanks to its material stiffness and seamless surfaces that eliminate any distortion of your sound.
The complete aluminum constructions and stainless fasteners passed a 720 hours salt spray test to ensure it stands up in the most demanding environments. To further comply with the IP55 certification, AUDAC ensured that the front grill is water repellent and that VIRO is standard equipped with rubber cable grommets for fixed installation and optional Speakon connect. The VIRO5 stands up to humidity, rain, snow, limited dust, UV rays, and extreme heat or cold.
The multifunctional mounting bracket that comes included allows for the VIRO5 to be mounted on any wall or ceiling. In addition, there are several optional mounting adapters for poles, stands & ground pins to achieve maximum flexibility in positioning your loudspeakers.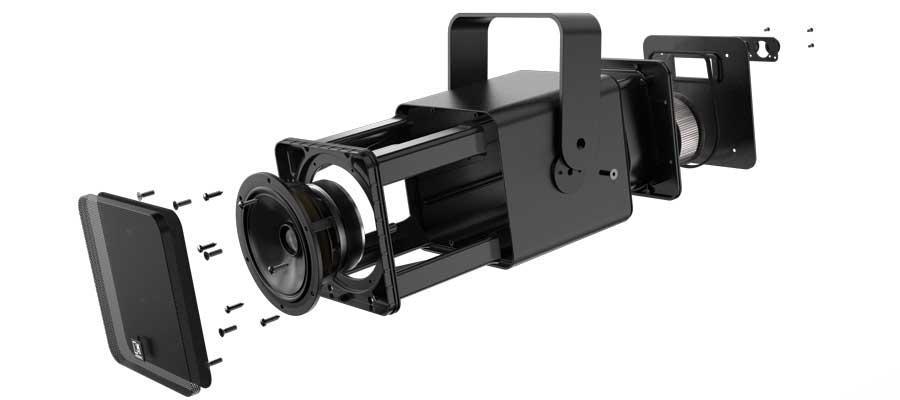 ---
Don't forget to follow A.C. ProMedia on Social Media:
| | | | |
| --- | --- | --- | --- |
| | | | |
ABOUT A.C. ProMedia
A.C. ProMedia offers multimedia products and solutions (Audio-Video-Lighting-Control-Networking) aimed at the Fixed Installation & Architainment Markets, through Consultants, Design Groups, and Systems Integration channels.
• Architecture • Corporate Media • Consultant Groups • Municipalities • Hospitality • Theme Parks • Sports Venues • Public Space • Retail Space • Cruise Ships
A.C. ProMedia is the North American distributor for AUDAC innovative audio solutions, and Luminex Network Intelligence manufacturer of data distribution equipment.
For more information visit www.acpromedia.com or call 1-855-324-9354
ABOUT AUDAC
It is what we experience through our senses that make life meaningful. In fact, it can be said that through the qualities in speech and music we experience, we become familiar with the higher values of life.
This is just one of the reasons why at AUDAC you will find a passion for sound. Each speaker, audio matrix, or amplifier solution we develop expresses that same inspiration and quality that exceeds users' expectations, making it no coincidence our success results from exploring new methods and ideas beyond conventional boundaries.
For more information visit www.acpromedia.com/audac or call 1-855-324-9354.
Recent News
News Search