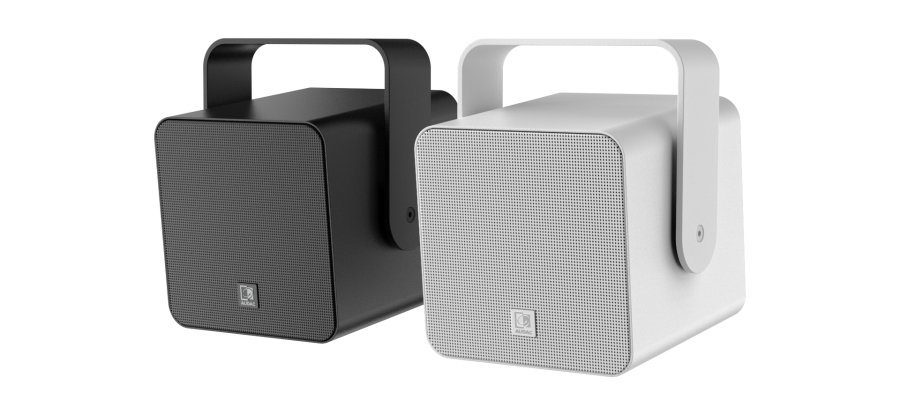 Why choose the VIRO5 series as your next compact performance loudspeaker?
A sound that lasts
Did you know that the VIRO5 incorporates a coaxial setup with a high-performance soft, silk-domed tweeter for smooth tonality and a 5" speaker driver to give an impressive size-to-sound ratio for a wide range of applications?
Impressive coverage pattern
Did you know that the coaxial driver used was specially designed for this project and achieved an impressive 160° conical dispersion? VIRO5 loudspeakers fill a wider room area with smooth, integrated sound, essential as one rarely sits directly before the loudspeaker.
Weather-resistant- IP55 rating
Did you know that the VIRO5 features an IP55 rating? Yet more importantly, it is designed to withstand all elements of time, as it stands up to humidity, rain, snow, dust, UV rays, extreme heat, and cold.
Salt spray test
Did you know that the VIRO5 passed a 720 hours salt spray test with ease? The salt spray test is a standardized and popular corrosion test method used to check the corrosion resistance of materials and surface coatings.
Always the right connection
Did you know that with the VIRO5, you can modify your connections easily? From cable glands with rubber grommets to optional SpeakON connections (CSV102) and an optional 70/100V transformer (TRV106).
Remarkable build quality
Did you know that the VIRO5 is crafted in high-grade aluminum that provides superior acoustic properties thanks to its material stiffness and seamless surfaces that eliminate any distortion of your sound?
Optional 70V/100V transformer
Did you know that the TRV106 is an optional transformer for the VIRO5? This transformer can convert VIRO5 speakers allowing them to be fitted in 70/100V installations where long cable runs can be used.
Clever mounting options
Did you know that the VIRO5 Compact performance loudspeakers feature a die-cast mounting bracket for wall & ceiling mount purposes at any desired angle? Additionally, alternative mounting possibilities are available through a stainless-steel ground pin (MBK523/G), a table stand (MBK465), and a pole mount adapter (MBK530).
CAD Files
Did you know that the CAD files of the VIRO5 are available on the download page? These files allow you to implement our solutions in your personalized 3D projects. You are making it significantly easier for architects, construction companies, and many other parties to present and plan a project in an even more visual way to any partner.
Acoustical Data
Did you find the EASE files of the VIRO5 speakers on our website? With these EASE files, system designers can simulate the acoustic performance of the VIRO5 to find the optimal setup for a given venue with multiple audience areas and curved and inclining seating.
Wide range of applications
Did you know that due to its versatility, the VIRO5 compact performance loudspeaker creates an all-in-one solution for various applications, including educative, corporate, and even residential environments? Thanks to the optional SpeakON connectors (CSV102), it can be optimally used for rental purposes.
Guaranteeing optimum safety
Did you know the VIRO5 has an M6 safety bushing, which allows mounting drop safety wires (STG601)?
Discover more about the VIRO series on Audac.eu/VIRO
A.C. ProMedia is the North American distributor of AUDAC's innovative audio. A.C. ProMedia manages the sales, distribution, and service of AUDAC's product line from their offices in Toronto.
---
Don't forget to follow A.C. ProMedia on Social Media:
| | | | |
| --- | --- | --- | --- |
| | | | |
ABOUT A.C. ProMedia
A.C. ProMedia offers multimedia products and solutions (Audio-Video-Lighting-Control-Networking) aimed at the Fixed Installation & Architainment Markets, through Consultants, Design Groups, and Systems Integration channels.
• Architecture • Corporate Media • Consultant Groups • Municipalities • Hospitality • Theme Parks • Sports Venues • Public Space • Retail Space • Cruise Ships
A.C. ProMedia is the North American distributor for AUDAC innovative audio solutions, and Luminex Network Intelligence manufacturer of data distribution equipment.
For more information visit www.acpromedia.com or call 1-855-324-9354
ABOUT AUDAC
It is what we experience through our senses that make life meaningful. In fact, it can be said that through the qualities in speech and music we experience, we become familiar with the higher values of life.
This is just one of the reasons why at AUDAC you will find a passion for sound. Each speaker, audio matrix, or amplifier solution we develop expresses that same inspiration and quality that exceeds users' expectations, making it no coincidence our success results from exploring new methods and ideas beyond conventional boundaries.
For more information visit www.acpromedia.com/audac or call 1-855-324-9354.
Recent News
News Search