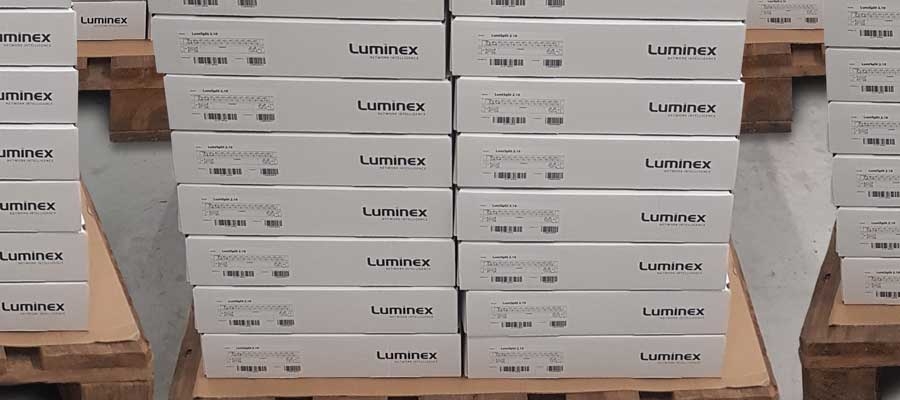 Worldwide - Leading lighting rental house, MBSE, has made a significant investment in over 500 Luminex network and lighting distribution devices. This substantial acquisition was supplied by sister companies A.C. Entertainment Technologies (AC-ET) and A.C. Lighting Inc., to the MBSE technical teams on both sides of the Atlantic.
Created specifically for the entertainment industry, Luminex products are becoming increasingly responsible for managing the data behind many of today's fixture heavy productions. Extremely capable and simple to use, Luminex systems provide the cutting-edge solutions necessary to handle complex lighting data distribution. This blend of power and simplicity allows crews to manage even the largest network setups, without the need to call on a separate IT expert.
AC Lighting Inc.'s Vice President of Sales, Fred Mikeska comments, "In my opinion, Luminex has established itself an arguably one of the industry's leading standards for data distribution. The attention to detail and ability to make sure that everything on set reacts as it is supposed to, exactly when it is supposed to, makes these products an incredibly important part of an installation. When it comes to reliability and simplicity, in the studio or on location, Luminex really is a leader in this field. We are delighted to be supporting MBSE, both in the UK and the US with this industry-leading hardware".
Speaking about the recent investment, MBSE UK Technical Director, Steve Howard says, "MBSE has been consistently supporting crews the world over, on some of the most important productions of the last few years. With the advent of ever more creative technology being used on set, the need for robust data management has become an essential ingredient. Through "A.C. sister companies", these Luminex units provide us with exactly what's needed to handle even the most complex lighting designs".
The Gigacore switches and Luminode Ethernet/DMX processing units included in the MBSE delivery are incredibly powerful lighting tools. Capable of handling up to 300 universes, with reliable, simultaneous control over multiple fixtures, they are helping cinematographers and crews stay in control, leaving them free to focus on their art.
Mikeska adds, "The increasing appetite for 'in-set' LED and in-camera effects which we are seeing, has led to a growing demand for data and communication protocol systems. Luminex is driving forward the creative application of such technology. It really is fantastic for "A.C. sister companies" to be providing equipment which helps production teams achieve some truly stunning results".
---
Don't forget to follow A.C. Lighting Inc. on Social Media:
---
Please note, in certain countries, some of the products listed may not be available from A.C. Entertainment Technologies Ltd (AC-ET) and A.C. Lighting Inc (AC Inc). The rights and ownership of all trademarks are recognised. Whilst every effort has been made to ensure that the information is correct, AC-ET and AC Inc accepts no liability for errors or omissions. Technical specifications and data are provided for guidance only. Because manufacturers constantly aim to improve their products, they reserve the right to amend or alter at any time and without prior notice, the specifications of any product. E&OE.
About A.C. Lighting, Inc.
A.C. Lighting, Inc. is a value-added distributor of world-class lighting and associated rigging technologies for the theater, film, television, worship, exhibition, and commercial markets. A.C. Lighting Inc. a North American distributor for premier brands including Chroma-Q® LED lighting, Vista by Chroma-Q lighting and media control surfaces, PROLIGHTS high value and high-performance range of lighting, video and effects products, Luminex Networking Intelligence manufacturer of data distribution equipment, Manfrotto and Avenger: Professional Lighting Stands and Accessories, Follow-Me Remote Follow Spot Control Systems, LumenRadio wireless lighting controls, Jands StageCL and Prolyte staging and trussing.
For more information, please visit www.aclighting.com or call 416.255.9494
About A.C. Entertainment Technologies Ltd.
A.C. Entertainment Technologies Ltd. has its origins dating back to the early 1970s, and today is a leading 'one-stop' international provider of cutting-edge entertainment technology products and solutions to dealers, distributors and end users in over 80 countries.
The company supplies professional lighting, audio, rigging, video, and associated equipment from bases in High Wycombe and Leeds, to a wide range of sectors including Touring & Live Shows, Film & TV, Theatre, Education, Corporate, Events and Installation.
We pride ourselves on having a team of industry professionals with wide and varied experience, who can help advise on the best solution for each customer, project and budget. Our sister companies can be found around the world including in the USA, Canada, France, Ireland, and Japan.
Recent Studies
Studies Search