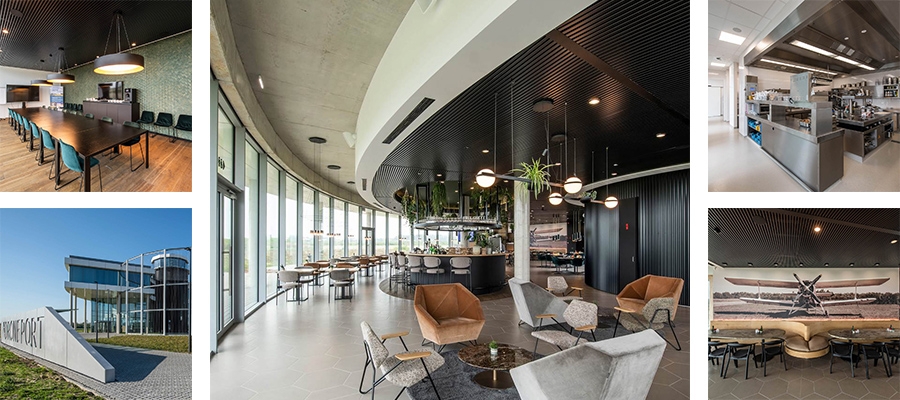 SINT-TRUIDEN, BELGIUM
In Sint-Truiden, Belgium a 28ha industry park with a specific focus on the aviation and drone industry has recently opened. Droneport is a unique ecosystem with great infrastructure and services to facilitate research, innovation, and entrepreneurship in this sector. A large part of the park also functions as an incubator for many start-ups, organizations and research teams developing, producing or servicing in this brand new market.
Several parts of the DronePort site are equipped with an AUDAC audio system to provide the residents and guests with suitable background music or perfect sound quality when doing presentations. 'DronePort Cuisine', a restaurant located within the complex was equipped with 9 CELO6 High-end ceiling speakers. With its borderless Slimline™ grill design, these CELO speakers become nearly invisible when mounted in the ceiling. The superior sound quality ensures a relaxing experience for every guest. These CELO's are powered by a CAP412 quad-channel power amplifier. In the kitchen area, the staff can also enjoy the music coming from 4 CIRA524 Quickfit™ ceiling speakers. Thanks to the AUDAC Touch app or the MTX web-based interface the input signals and volume can easily be controlled within the entire restaurant.
In the lobby that is used for receptions and small meetings, the installer, Electro Wijnants, installed 6 elegant and easily installable ATEO6 wall speakers to provide background music over the whole lobby. Near the restaurant, you can find a meeting room which is provided with 4 CELO6 High-end ceiling speakers and an MWx45 wall panel controller. The ceiling speakers and wall speakers of the lobby, kitchen and meeting room are powered by a CAP424 quad-channel power amplifier.
The audio system can easily be controlled by the MTX88 8-zone mixer that separates the entire complex in multiple zones. As an audio source, the CMP30 all-in-one digital audio player is used to provide all these different zones with the right tunes. Using the CMP30 they can easily switch between CD's, MP3, or even radio stations.
With this brand new AUDAC audio installation, residents and visitors of this unique business complex can work in comfort on the future of the drone industry.
PRODUCTS USED:
Are you looking for advice on a custom audio project?
Feel free to contact and challenge us to provide you with a complete AUDAC solution.
---
This case study was posted with permission from AUDAC. To view, the case study click here.
ABOUT AUDAC
It is what we experience through our senses that make life meaningful. In fact, it can be said that through the qualities in speech and music we experience, we become familiar with the higher values of life.
This is just one of the reasons why at AUDAC you will find a passion for sound. Each speaker, audio matrix or amplifier solution we develop expresses that same inspiration and quality that exceeds users' expectations, making it no coincidence our success results from exploring new methods and ideas beyond conventional boundaries.
For more information visit www.acpromedia.com or call 1-855-324-9354
Recent Studies
Studies Search